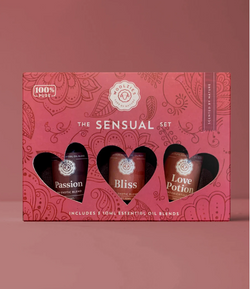 The Sensual Collection
Woolzies Sensual Essential Oil Collection contains three enchanting and romantic oil blends that encourage feelings of excitement and passion. These blends can be diffused, inhaled, and applied to the skin.
Pairs well with our diffusers 

Woolzies Love Potion Blend has a rich floral scent that will encourage warm feelings and joy. It includes oils of jasmine, neroli, rose, white lotus, and vetiver.

Woolzies Bliss Blend has a sweet floral aroma and helps with feelings of calm and tenderness. This blend is made up of rose, geranium, jasmine, clary sage, and vetiver.

Woolzies Passion Blend has a bold, exotic, spicy aroma that will ignite feelings of excitement and enthusiasm. It contains oils of cardamom, cinnamon, bark, ginger, sandalwood, jasmine, ylang ylang, and orange.