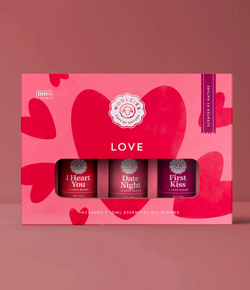 The Love Collection
The Woolzies love set has 3 playful, perfectly matched blends that bring on the romance. Diffuse these over a candle-lit dinner, a cozy movie, or however you do love.
I HEART YOU: Geranium, Marjoram, Lime, Palmarosa, and Cedarwood Essential oils.
DATE NIGHT: Sandalwood, Cinnamon bark, Patchouli, Rosemary, and Ylang Ylang essential oils.
FIRST KISS: Jasmine, Geranium, Rose, Sandalwood, and Lemon essential oils.