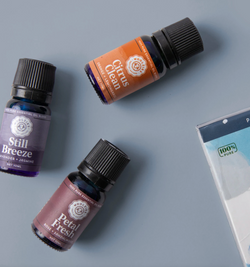 The Laundry Collection
Woolzies Laundry Essential Oil Collection is made up of three unique oil blends that offer fresh laundry scents. These blends are designed for use with Woolzies wool dryer balls but can also be inhaled,
diffused, and used topically.
Woolzies Petal Fresh Oil Blend has a floral, earthy, woody aroma and contains oils of rose and sandalwood.
Woolzies Still Breeze Oil Blend is a soothing oil with a sweet, exotic, floral scent. It is made up of lavender and jasmine essential oils.
Woolzies Citrus Clean Oil Blend is a cleansing oil that has a citrusy, fresh aroma. It contains orange and lemongrass essential oils.