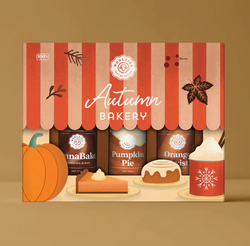 The Autumn Bakery Collection
🍂What comes to mind when you think about Autumn & fall? Cinnamon, Pumpkin Pie, Oranges and Essential Oils! We put all that Autumnal goodness into one delicious set for you to diffuse, inhale & enjoy!

🎃Woolzies Pumpkin Pie Oil Blend creates an uplifting mood. It has a sweet, spicy, exotic aroma that soothes the body and mind. It contains Cinnamon, Clove, Pumpkin extracts & Nutmeg Essential Oils. 
🍂CinnaBake Essential Oil Blend has a spicy, sweet, warm aroma. It makes the atmosphere warm and peaceful. It Contains Cinnamon, Vanilla, Lime, Peppermint, & Clove.
🍂The Orange Twist Essential Oil is a cleansing, energizing, and citrusy; and yet has that cinnamon warmth to it. These oils can be inhaled, diffused, and applied topically. It contains Orange, Cardamom, Peppermint & Cinnamon.
🍂Autumn Bakery essential oil blends can be used to make Autumn themed soaps, bath bombs, candles, cosmetics, potpourri, air fresheners, slime, and natural roll-ons. Just put a few drops at a time to come to the desired fragrance.
🎃100% PURE & UNDILUTED! Woolzies Essential oils are highly concentrated, made in state-of-the-art laboratories, naturally derived, vegan, never tested on any animals, 100% pure, and free of synthetic ingredients, parabens or artificial fragrances, delivering the very best benefit. Each bottle is tested by an independent lab for its constituents as well as to have no fillers, & additives. All Woolzies natural products are designed for maximum effect!