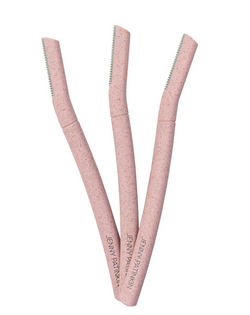 Skin Smoothing Trio Dermaplaning Set
Dermaplaning is a safe and effective way to exfoliate dead skin cells, remove peach fuzz and enhance product performance.
Made with a stainless steel safety blade and surplus wheat straw bioplastic, this tool is the kinder, gentler (and much more eco-friendly) cousin of a razor.
Dermaplaning gives the complexion a brighter and more radiant appearance by lightly scraping away old cells and peach fuzz that can make skin look dull. Skincare can come in more direct contact with the skin for improved absorption, and makeup will apply more smoothly.