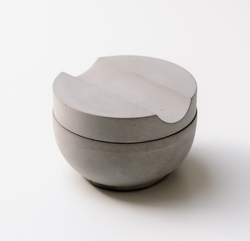 Shaving Cup including Soap
Shaving cup in concrete with shaving soap. By adding a small addition of polymer the concrete becomes elastic and pliable. It´s is not so soft that it can be bent, it's still a stone material but has a pleasant feeling to it - warm, smooth and comfortable. It contains no environmentally harmful substances. The products are molded by hand in a small foundry outside of Stockholm. The concrete is cast of a relatively viscous mass that causes the surface to receive a varying smoothness and color variations occurs, this contributes to the vibrant impression. Compatible with shaving brush 1010-00.
Perfectly pair this shaving cup with our beautiful shaving brush : here  or our stunning beard brush : Here
Weight 430 g
Height 5,5 cm
Diameter 9 cm
A small but important note: 
Iris Hantverk craftsmen have been making wood and natural fiber brushes in the tradition of Swedish brush binding since the late 19th century. Visually impaired craftsmen continue these traditions today, creating brushes and tools that are both beautiful and functional.