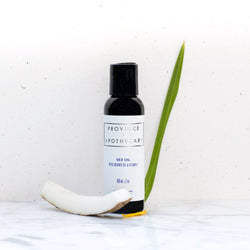 Sex Oil
HAVE MORE FUN! Our super-luxurious sex oil naturally hydrates your skin. The light and moisturizing blend is made from wildcrafted and certified-organic ingredients, without the addition of fragrance or chemicals. Use it on every part of your body! It's great for all skin types, including sensitive skin.
Our Sex Oil is free from: Alcohol (drying + irritating), Glycerin (drying + irritating), parabens (endocrine disruptor, mimics estrogen), petroleum products (irritating + suffocating to the skin), harsh preservatives (cellular mutator + irritating to the skin) and synthetic fragrances or colour.
60ml
Fractionated Coconut Oil, Sunflower Seed Oil*, Evening Primrose Oil*, GMO-free Vitamin E and Rosemary Leaf Extract.
*Certified Organic ingredients
Use generously and apply where desired. Do not use with latex products.
This product has a shelf life of 6 months after opening.