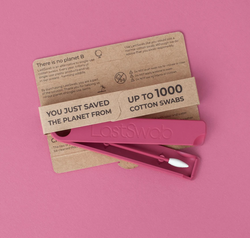 Pointed Makeup ' Q-Tip'
LastSwab makeup q-tip is a reusable, sustainable and sanitary alternative to cotton swabs and buds. With pointed tips specially designed for makeup touch-ups and cleaning tight spaces, our reusable makeup q tips are must-have for your makeup bag!
Customer Review : 
Absolutely encourage people looking to reduce their waste and consumption to purchase it.
Swab on-the-go, with the corn-based carry case.
LastSwab can be cleaned by hand using soap and water.
You are one click away from saving the world from +1000 single use cotton swabs!
LastSwabs are easily cleaned with water and a little soap. You can also use a disinfectant like rubbing alcohol to sanitize it.