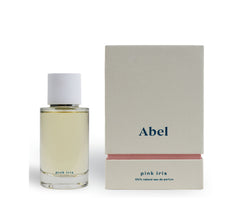 Pink Iris - Abel Unisex Parfum
Nose-tingling Sichuan pepper and fresh basil open this traditional floral bouquet where its namesake iris shines among a showstopping lineup of rose, jasmine, and natural musk.
*1% of Pink Iris revenue goes to supporting nonprofit Plastic Soup Foundation
 *15ml*
About Abel Parfum : 
elegant perfume for men and women
At Abel we believe...
In the power and beauty of scent. Its ability to enrich daily life in a way nothing else can. We believe that indulgence doesn't need to have a negative impact on the earth, its inhabitants, or you.
full ingredients list:
All our ingredients are derived from natural sources. We guarantee fairtrade and sustainable farming practices.
Sichuan pepper oil - China
basil oil - Comores Islands
bergamot oil - Italy
lemon oil - Italy
grapefruit oil - Italy
methyl anthranilate - *naturally derived grape note
carrot seed oil
hexenol cis-3 - *naturally derived matcha tea note
frambinon® - *naturally derived raspberry leaf note
cabreuva oil - Paraguay
linalool oil
rose absolute
phenylethyl acetate nat. - *naturally derived honey note
citronellol
jasmin absolute - Egypt
violet leaves absolute - Egypt
lonone beta - *naturally derived rose note
orris butter concrete - France
heliotropin/piperonal - *naturally derived vanilla note
vanillin - *naturally derived vanilla note
bezoin siam absolute
tonka bean absolute - Venezuela
ambroxan - *naturally derived ambergris note
Ambrettolide - *naturally derived musk note
non-denatured food grade grain alcohol - Italy *organic
INCI (potential allergens): - limonene, citronellon, linalool, benzyl benzoate, farnesol, citral, coumarin, eugenol, geraniol, isoeugenol, benzyl alcohol, benzyl cinnamate, benzyl salicylate,