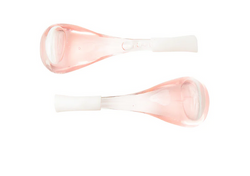 Petite Cryo Glow Globes Set
Our adorable and portable palm-sized Petite Cryo Glow Globes use cold temperatures to constrict blood vessels in the skin, promote circulation and oxygenation, reduce redness, soothe irritation, reduce inflammation and give the appearance of a firmer, brighter and more lifted complexion.
Ergonomically shaped, these globes hug the contours of the face and may be used in a rocking or light gliding motion, on bare skin or on top of your preferred skincare products. Gently glide the globes over the whole face, or target on any particular areas of concern such as the under-eye or jawline, for an instantly refreshed and revitalized appearance.