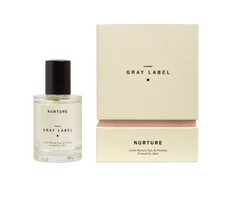 Nurture - Abel Parfum
Created by Mothers for Mothers :
A collaboration with organic children's clothing brand, Gray Label. Created by Nose Fanny Grau, a mother herself, and partner of perfumer Isaac Sinclair. Created by mothers, for mothers. NURTURE is a soft, calming fragrance that reminds a mother to take care of herself while also taking care of the little one. 
The ingredients were selected for the beauty of their scent profile, as well as their healing properties. "Calming rose, energising orange blossom, ginger for its anti-nausea properties and sandalwood for grounding. Scent can have such a positive effect on wellbeing and we wanted to harness that effect during what is a wonderful, but often emotional and challenging time in a women's life. To all the mother's, papa's and anyone else out there in need of nurturing. We hope NURTURE brings you peace." -Note from the Abel brand
1% of NURTURE revenue goes to supporting African based nonprofit Solar Sister
*30 ml *
 About Abel: 
elegant perfume for men and women
At Abel we believe...
In the power and beauty of scent. Its ability to enrich daily life in a way nothing else can. We believe that indulgence doesn't need to have a negative impact on the earth, its inhabitants, or you.
All our ingredients are derived from natural sources. We guarantee fairtrade and sustainable farming practices.
lentisque absolute - Morocco
bergamot oil (bergapten free) - Italy
lemon oil (bergapten free) - Italy
mandarin oil - Italy
ginger extract - Nigeria
rose oil - Bulgaria
orange flower abstract - Tunisia
jasmin sambac absolute - India
orris concrete - France
cedarwood oil - USA
copaiba balsam oil - Brazil
amyris oil - Haiti
sandalwood oil - East India
sandalwood oil - Sri Lanka
ambroxide - *naturally derived ambergris note - China
ambrettolide - *naturally derived musk note - India
non-denatured food grade grain alcohol - Italy *organic
INCI (potential allergens): - limonene, linalool, geraniol, citral, citronellol, farnesol, benzyl alcohol, isoeugenol, eugenol, benzyl benzoate