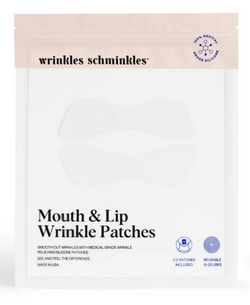 Mouth & Lip Wrinkle Patches - 2 Patches
Marionette lines, lip lines, smokers lines, jowl lines and mouth wrinkles are very aging and difficult to treat. Fortunately, our Mouth & Lip Smoothing Facial Patches can help! 

Made in the USA of 100% Medical Grade Silicone, our SIlicone Patches work by comfortably hugging your skin and preventing laugh lines, vertical lip lines or any wrinkles around the mouth from being able to form and compressing existing lines. At the same time, the Patches support the skin's natural ability to hydrate the skin, retain the moisture, stimulate blood flow and helps boost collagen production – that vital protein we lose as our skin ages.