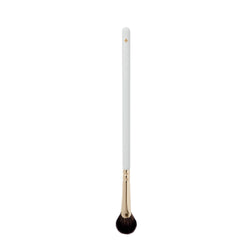 Mini Fan Brush
A uniquely shaped makeup brush specifically designed without corners to perfectly apply multiple cosmetics flawlessly.
APPLICATION TIPS:
All Over Color: Use the entire brush for a monochromatic eyelid by gently swiping it back and forth across the eyelid
Crease: Add deep shadows to the crease of the eye by applying a dark color with the tip of the brush
Belly (Middle) of the Brush: Dip the belly of the brush into light or medium tone shades
Highlighter: Tap the center of the brush into a highlighter color then onto the middle of your eye lid for a pop of shimmer of lighter color
Use with our RMS Hidden Desire Palette  or any of our beautiful eye shadows 
"I never follow trends when developing product so it made the most sense to create one brush that you can use for everything, from your eye shadow to your highlight, as opposed to a full brush set."
– Jillian Dempsey
My cruelty-free brush makes all eyeshadows and Lid Tints easy to apply with the custom rounded edges. Use to draw on a creaseline and blend away! Also works well for a wash of color all over the lids.