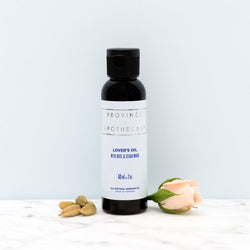 Lover's Oil (L)
HAVE MORE FUN! Our all-natural massage oil is the best way to have fun in the bedroom! We've blended 10 of the most sensual essential oils into a non-toxic rich and moisturizing base for a heightened aromatherapy experience to bring you and your lover closer.

Rose Absolute is an exotic essential oil used for centuries in perfuming for it's complex, sweet floral scent. Cedar wood oil has a soft woodsy scent that comforts and grounds the mind to instill confidence and self-assurance.
120ml
Fractionated Coconut Oil*, Sunflower Seed Oil*, Cedarwood Oil*, Jojoba Seed Oil, Evening Primrose Oil*, Vitamin E, Bergamot Fcf Oil, Ylang Ylang Oil*, Clary Sage Oil*, Rose Geranium Flower Oil, Jasmine Oil, Cardamon Oil, Rosemary Leaf Extract*, Rose Absolute Oil, Vetiver Oil*.
*Certified Organic ingredients
Use generously and massage into skin where desired. For external use only. Do not use with latex products.
This product has a shelf life of 6 months after opening.