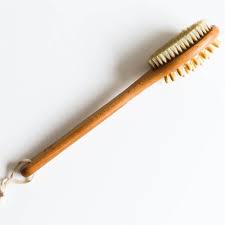 Long Dry Body Brush
Clear, soft, renewed skin is just a brush away. Our long-handled dry body brush brings out your skin's best from head to toe. It's the perfect addition to your morning routine.
Great for anyone with dry, flakey skin, clogged pores, blackheads or cellulite. So basically everyone, right?!

FREQUENCYDaily, babe! Cellulite and dry skin has no business on your body.
Instantly - 1 Week, as you brush you will notice all that dead skin coming off prepping your skin for a flawless shower!

6 months to a year! This all depends on how you treat your brush, so give it some love and keep it in a good spot! Those bristles will last longer!