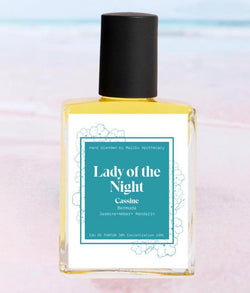 Lady of the Night Parfum
100% Natural Parfum Extrait. Highly concentrated and rich in  essential oils, this alcohol-free format is silky smooth on the skin. In a travel-friendly 7mL bottle, dab on pulse points for a restorative scent ritual in your day.
This enthralling, intoxicating fragrance will carry you back to the memories of sultry Bermuda nights that dreams are made of. Complex, Intriguing and sensual, this mix of Jasmine, with a sweet salty fusion and deep amber evoke magical memories that will leave a smile on your face.

Top Notes: Mandarin 
Heart: Cedar + Jasmine 
Base: Sandalwood + Dark Musk + Amber 
Roll onto pressure points - writs, behind the ears and enjoy the beautiful aroma