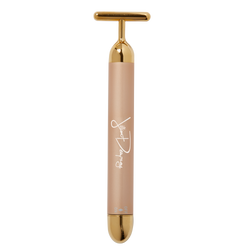 Gold Bar
24K gold vibrating bar that instantly makes skin feel and appear toned, lifted, contoured and revived.
A luxe, breakthrough bar that helps the skin look lifted and toned with each vibration. The 24-carat, gold plated, vibrating t-bar is an innovative skin sculpting and contouring tool from professional makeup artist, Jillian Dempsey. Ideal for men and women, the Gold Bar's vibrations mimic the effects of a massage, instantly relaxing facial muscles to release tension
24-carat gold plated, vibrating t-bar
Instantly lifts and contours
Helps revive tired, puffy looking skin
Made in Japan 
STAR RATING: 4.3 / 5
USES: Stimulates blood flow, aids in lymphatic drainage, and relaxes facial muscles which result in more sculpted-looking cheekbones, jawline, and chin and a reduced appearance of tech lines on the neck; lifts, de-puffs, and contours the complexion for a more awake and refined appearance
BEST FEATURES: The Gold Sculpting Bar vibrates with 6,000 rotational pulses when turned on, helping to stimulate blood flow.
ABOUT THE BRAND: In 2015, renowned celebrity makeup artist Jillian Dempsey launched her own eponymous line of clean cosmetics, including an array of glossy lid tints, cheek tints, and kohl eyeliner. In 2018, she added her first beauty tool to the roster: the Gold Sculpting Bar.
Suggested Usage:

-Completely remove all makeup to start on a clean face.
-Apply a pea-sized amount of your typical facial moisturizer on skin.

Cheekbones:
-Start at the jawline, gently pushing the bar upwards to sculpt the cheek.
-Continue this motion for five minutes on one side of the face before repeating on the other side.
-Avoid pushing down when sculpting the cheek bones as the desired effect is pushing upwards, towards the temples.

Jawline/chin:
-Starting at the jawline, gently push the bar in towards the neck and under the chin.
-Repeat this motion for five minutes moving along under the area of the chin and jaw.

Tech lines:
-Using the index finger and thumb, gently stretch the skin on either side of the tech lines.
-Quickly glide the bar up and down in a vertical movement to help reduce lines and prevent future visibility.
-Tech lines are the two horizontal lines that appear across neck from looking down at your phone or other types of technology.

Watch the video here