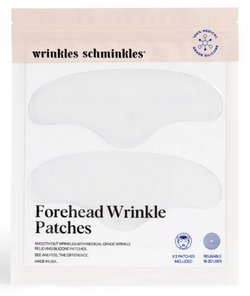 Forehead Wrinkle Patches - 2 Patches
Forehead wrinkles and forehead lines used to be hard to get rid of! Wrinkles Schminkles' anti aging Forehead Wrinkle Patches use 100% Medical Grade Silicone to deliver you the ultimate brow lift! 

Whether caused by aging, repeated facial movements from using facial muscles or sleeping position, our Forehead Patches will work to relieve all forehead wrinkles, frown lines - aka the 11's - or brow wrinkles by comfortably hugging your skin to prevent it from being able to crease or wrinkle. At the same time, the Anti Wrinkle Patches support the skin's natural ability to hydrate the skin, retain the moisture, stimulate blood flow and helps boost collagen production – that vital protein we lose as our skin ages.