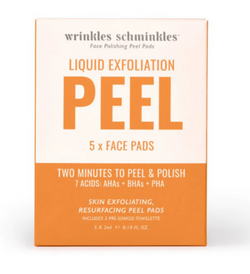 Face Polishing Peel Pads - 5 Pack
Our Face Polishing Peel Pads work like a peel in clinic, yet in two minutes, as an at home facial peel! Formulated with a powerful combination of 7 acids - AHAs, BHAs and PHA - in conjunction with minerals, antioxidants and anti ageing ingredients, these Facial Peel Pads deliver safely exfoliated and resurfaced skin free of dead skin cells, with visibly smoother lines and wrinkles and minimised appearance of pores.
Our fast-acting glycolic acid based Peel Pads can be used during the day or night as an exfoliator and enable optimal delivery of skincare into the skin leaving your skin instantly glowing, boosting collagen production and skin cell renewal.