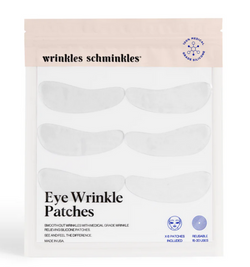 Eye Wrinkle Patches - 3 Pairs
Crows feet, under eye wrinkles, bags and dark circles under the eyes can be instantly refreshed with our 100% Medical Grade Silicone Eye Patches. 

Whether your signs of aging around the eyes are caused by natural aging, hereditary, tiredness or your sleeping position, our innovative Silicone Under Eye Pads work by comfortably hugging your skin and preventing the skin from being able to crease or wrinkle. At the same time, the Patches support the skin's natural ability to hydrate the skin, retain the moisture, stimulate blood flow and helps boost collagen production – that vital protein we lose as our skin ages - helping to get rid of bags under the eyes and relieve crows feet wrinkles and lines.