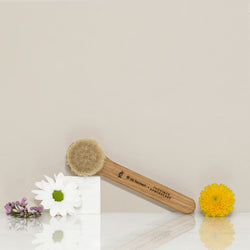 Daily Glow Facial Dry Brush
Improve skin tone, stimulate circulation, kick-start your metabolism and help to break down cellulite:
Stimulates blood and lymphatic circulation 
Encourages elimination of accumulated fluid 
Keeps skin soft, smooth and young-looking 
Suitable for dry brushing
The natural hair bristles are perfect for sensitive skin and the handle of the brush is made with FSC sustainable forest certified Beech wood.
Daily Facial Brush Routine : 
https://youtu.be/mHD2SJXb9Ms
We have collaborated with Sweden's IRIS HANTVERK to bring you a brush consciously hand-crafted by their collective of visually impaired artisans. The goat-hair bristles are responsibly sourced and ethically collected, and the oil-treated solid oak handle is certified responsibly forested.
The practice of dry brushing activates your lymphatic system to awaken the face and support overall skin health from within. The benefits of daily facial dry brushing are endless. Here are a few of our favourites:

Smooths fine lines and brightens appearance
Reduces puffiness and dark circles
Detoxifies to help clear congestion
Tones + firms skin
Gently exfoliates and stimulates cellular turnover
For a complete facial workout with transformative results, we recommend practicing facial brushing on dry skin, first thing every morning.