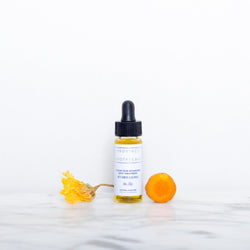 Clear Skin Advanced Spot Treatment (S)
Our concentrated blend of superior botanicals targets the appearance of spots for a brighter, revitalized complexion. It purifies acne-prone skin without harsh, drying or irritating ingredients, improving surface texture for healthier-looking skin. One drop is all you need to rejuvenate your skin!
Turmeric oil is a source of curcumin, traditionally recognized as a powerful anti-inflammatory. Gently soothes the look of skin and brightens tone.
Raw Calendula flowers infused in Jojoba oil gently protects against and alleviates chapping, cracking and roughness due to dryness.
7ml
Jojoba Seed Oil* [infused With Calendula Flowers*, Plantain Leaves*, Gotu Kola*, Comfrey Leaves*], Neem Seed Oil, Sea Buckthorn Oil, Vitamin E, Turmeric Root Oil, Myrrh Oil.*certified Organic/certifié Biologique

*Avoid this product during pregnancy. Discontinue use if irritation occurs. Store in a cool dark place.
This product is highly concentrated, always do a patch test before use.
This product has a shelf life of 6 months after opening.
Shake oil before use. Apply once daily.
Place one drop on red areas
Wait 2-5 mins for to absorb
Use with our Clear Skin Advanced Face Serum for best results.