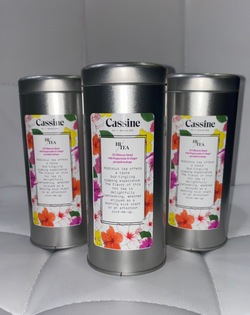 Cassine Hi/Tea - Hibiscus Tea
Our fine tea makes it easy to pause and take in the beauty of Bermuda. Refresh your senses and enhance your well being with this beautiful Bermudian tea. A dynamic blend of Hibiscus, Peppermint and ginger, is the perfect arrangement of flavours to reflect the beauty of our magical island. 
Use 1 Pyramid tea sachet per 10oz for a small cup or mug.  For a tea pot we recommend 2 sachets per pot. 
Best brewed for 5-6 mins before serving 
Delicious served hot or cold 
The most Bermudian Part of your day 
*20 Tea bags per container*