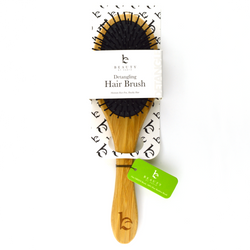 Detangle Hair Brush
Give your locks a little love, no matter what type of hair you have. Our detangling hair brush gets rid of knots and tangles without frustration or tears. Perfect for all ages and hair types.
HOW TO USE A BOAR BRISTLE HAIR BRUSH
Start with dry hair – brushing wet hair can lead to breakage.
Detangle your hair with a wide-tooth comb or detangling brush.
Use your boar bristle brush to brush from your hair's root to its tips.
If you have normal or thick hair, brush in sections. Start by brushing the back of your hair, then brush the rest in segments.
After use, carefully remove any hair left in brush with a wide tooth comb.
To clean, rinse brush with shampoo and water. Squeeze rubber cushion gently to remove any trapped water. Allow brush to dry by laying it on a flat towel with the bristles face down.