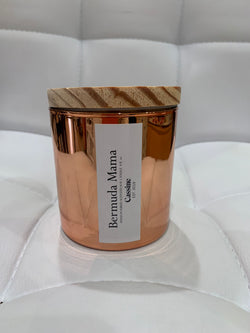 Bermuda Mama - Rose Gold
Bermuda, Bahama, Come on Pretty Mama! 
This is the cutest Mother's Day gift, in honour of all the Bermudian Mama's on our beautiful island. 
With enchanting with floral top notes of sweet jasmine on a bed of honeysuckle and magnolia. Middle notes are rich with Bermudian Lily and rose creating a light and dewy scent.
We are so excited to bring you our very own Cassine Candles. We worked hard to lovingly create the true scent of a ' Bermudian Mother's Day' 
Using natural soy wax and cotton wicks. Our Bermuda Mama scents have been carefully blended to mimic the flavours and aromas found in Bermuda. 
8oz