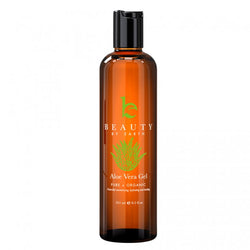 Aloe Vera Gel
Your skin works hard – give it a little something back with Beauty by Earth's 98% Organic Aloe Vera Gel.
It's the next best thing to the plant itself, giving you a reliable and natural solution to life's little irritations.
8oz
Organic Aloe Barbadensis (Aloe Vera) Leaf Juice, Ascorbyl Glucoside (Vitamin C), Xanthan Gum, Radish Root Ferment Filtrate, Tocopheryl Acetate (Vitamin E), Sodium Citrate
1. Our Organic Aloe Vera Gel has a ton of different uses. Here are a few to get you started, but your only limit is your imagination.
Healing minor burns: Apply a light layer of Aloe Vera Gel over minor burns for soothing, natural relief. Reapply 2-3 times a day until the burn has healed. Please remember that Aloe Vera is only appropriate for minor, first degree burns. Seek medical help for burns that are more severe.

2. Skin Moisturizer: Apply a thin layer of Aloe Vera Gel to the face before applying makeup, or to other parts of the body that need a bit of nourishing moisture.

3. Makeup Remover: Aloe Vera Gel is a gentle, natural alternative to conventional makeup removers. Apply a small amount of gel to a cotton ball, then gently remove makeup around your eyes. Refrigerate a cotton ball soaked in aloe vera gel before using for a cooling treat that reduces puffiness.

4. Aftershave: Apply a thin layer of aloe vera gel to the face or legs to moisturize and soothe freshly shaven skin.