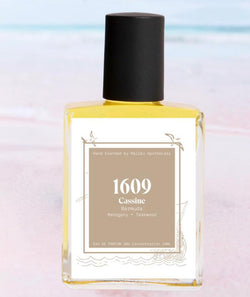 1609 Parfum & Cologne
100% Natural Parfum & Cologne  Extrait. Highly concentrated and rich in  essential oils, this alcohol-free format is silky smooth on the skin. In a travel-friendly 7mL bottle, dab on pulse points for a restorative scent ritual in your day.
Notes of cardamom and sandalwood create the perfect unisex candle that will compliment any space. A fresh yet rich natural aroma is smoothed over with sweet jasmine, warm spices, and sultry woody notes. As the first impression of warm woods part, a radiant crisp clarity of citrus quietly sings to bring a tune so precious it is sure to please.
TOP NOTES:
 

CARDAMOM + CITRUS
HEART NOTES: TEAKWOOD + JASMINE + ROSE
BASE NOTES:
 

SMOKE + SANDALWOOD + MUSK