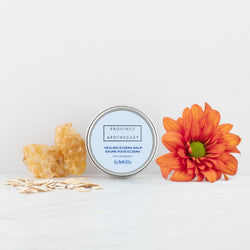 Healing Eczema Balm (S)
We have reformulated our best selling Healing Eczema balm to include Colloidal Oatmeal!

This is the product that started it all. Frustrated with ineffective, harsh, synthetic products, Province Apothecary founder Julie Clark decided there must be a natural way to heal her eczema. She began studying, researching, formulating and testing raw ingredients in her kitchen and saw amazing results that she wanted to share. Thus the Healing Eczema Balm was born, and Province Apothecary became a brand recognized for its effective + natural skincare.
15ml
Active ingredient: Colloidal Oatmeal 1.0% . Inactive Ingredients: Borage Seed Oil*, Broccoli Seed Oil*, Calendula Flower Extract, Beeswax*, Turmeric Root Oil, Sunflower Seed Oil, St. John's Wort Flower Extract, Olive Fruit Oil*, Propolis, Rosehip Fruit Oil*, Comfrey Root Extract, Vitamin E, Zinc Oxide. *Certified Organic
Apply to affected areas of skin as needed. Massage into extremely dry, cracked and chafed skin as often as needed for instant relief and long-lasting hydration. Apply generously.
We recommend using this product in conjunction with our Hydrating Rescue Balm for the best results. Layer Healing Eczema Balm overtop of Hydrating Rescue Balm for especially flaky, dry areas, and wrap with a piece of cotton gauze to optimize healing.
This balm has a slightly grainy texture because of the ground oatmeal, and may contain black/brown specks of propolis.