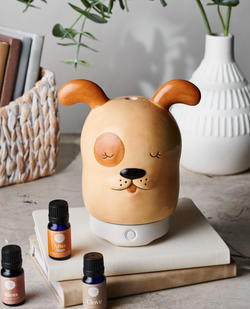 Puppy Ceramic Diffuser
THIS MAKES SCENTS.
Take care of yourself, relieve stress, and dramatically change your ambiance with our aromatherapeutic diffuser. It uses ultrasonic technology to diffuse essential oils while keeping their full integrity, so it safely and effectively infuses your space with relaxing scent. Bring calm home, naturally. 
ESSENTIAL INFO:
Includes Puppy Ceramic shade and diffuser base, and adapter
2, 6, or 8 hours continuous modes.
Optional colored and steady candle-like LED light feature.
Automatic-shut off.