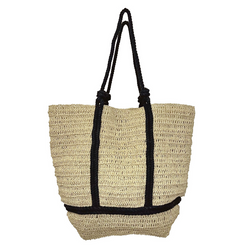 Nori Jute Bag with Rope Handle
Nori Jute bags with rope handles are stylish and eco-friendly accessories that showcase the natural beauty and sustainability of jute fibers. These bags are crafted from durable jute material, known for its strength and versatility.
These Jute bags with rope handles are not only fashionable but also eco-friendly. Jute is a renewable and biodegradable material, making these bags a sustainable alternative to synthetic or non-biodegradable options. By choosing a jute bag with a rope handle, you contribute to reducing plastic waste and promoting environmental consciousness.
Nori jute bags are stylish and environmentally friendly accessories that offer both functionality and natural charm. Their sturdy construction, comfortable rope handles, and spacious design make them a go-to choice for those seeking an eco-conscious and fashionable bag option.