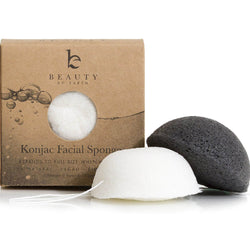 Konjac Facial Sponges
Are you cleansing, exfoliating, and nourishing your skin without jeopardizing your health with harsh chemicals and additives? If your natural beauty routine incorporates Konjac Sponges, then your answer is yes. These natural sponges help your face and decollete glow with health and beauty, all while staying 100% biodegradable and eco-friendly.
Konjac sponges come from the konjac plant, a perennial found in Japan. The konjac is full of the nourishment your skin needs to look its best, including vitamin A, vitamin E, vitamin D, vitamin B1, vitamin B2, vitamin B6, vitamin B12, vitamin C, and folic acid. Gently washing with these naturally alkaline facial sponges helps to balance your skin's acidity while enriching it with these vital nutrients. Konjac sponges exfoliate as they cleanse, helping to remove dead skin cells and encouraging the growth of new ones. The result? Smooth, glowing skin free of toxins and impurities.
We know not all skin is the same, which is why we've added a second Konjac sponge for the price of one. Is your skin sensitive, dry, or a combination type? Use the white sponge. If you're prone to acne, use the black sponge once a week for an even deeper cleaning. You'll be amazed at the way these tiny sponges will leave your skin clear, silky, and smooth.
100% Konjac
We love our konjac sponges for so many different reasons. They do amazing work. They're 100% natural. They're cruelty free. They're easy to use. They're biodegradable. They're shipped in earth-friendly packaging. They're great for all skin types. Okay, we'll stop bragging. But don't take our word for it – try it yourself! Once you see the difference that plant-based sponges can make for your health and complexion, you'll never go back to your old cleansing routine.
How to Use Konjac Facial Sponges
1. Get your sponge ready to go! Soak your sponge in warm water for up to a minute until it is saturated and soft.
2. Squeeze out any excess water.
3. If desired, add your favorite facial cleanser to your sponge.


4. Gently massage your face and decollete with your sponge in a circular motion. Move in an upward motion, and be careful not to be aggressive! Let the sponge do the work for you.
5. Rinse face with warm water and pat dry.


6. Gently rinse any facial cleanser out of your konjac sponge, then squeeze out any excess water. Don't twist or wring your sponge.
7. Allow sponge to dry in a well ventilated area.
8. Sterilize with boiling water once a week.