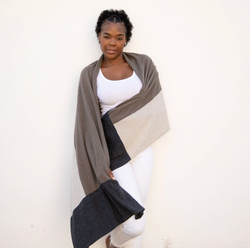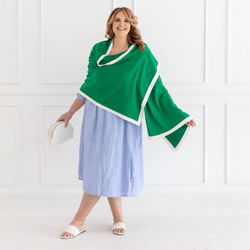 Dreamsoft Travel Scarf
It's our #1 seller and everyone's favorite, with more than 1000 5-Star reviews for a reason. The Organic Cotton Dreamsoft Travel Scarf is irresistibly soft, versatile and made from the safest cotton on the planet. It makes the perfect gift (for yourself and a friend).

With three ways to wear, this all-in-one scarf + shawl + blanket will keep you comfortable anywhere your travels take you. 
A Summer In France: Inspired by the rolling hills of Provence and the seaside towns of the Riviera, our Summer Collection is designed to keep you looking chic on all of your travels. The gentle rolling countryside of Southern France brings a fresh take to a classic with the limited edition Kelly Green Banded.
It's the perfect way to add sophistication to your zoom attire, a cozy extra layer for lounging at home and the must have accessory for any evening out on the town.
All zestt comforts are made from 100% organic GOTS-certified cotton, which is free of pesticides and toxic chemicals, better for farmers + better for you! When you choose zestt organics, you've made a healthier choice for your home + your family.
100% Organic Cotton
Hypoallergenic
GOTS Certified Organic
28" X 78"
Machine Wash
Ethically Made in India